Business Capability
---
Complete production chain from sheet metal design, fabrication, machining, precision welding, surface treatment and assembly
Solution
---
Provide "one-stop" non-standard customized precision metal flexible manufacturing As precision metal manufacturing contains many different processes and production techniques, the ability to provide customers with a full one-stop processing services will definitely save time and management cost for customers, meanwhile will help the company to strengthen customer relationship and enhance product added value. Huaya company is equipped with excellent production equipments and various core technologies of metal manufacturing such as precision sheet metal processing technology, precision machining technology and precision welding technology, and spraying technology, able to provide a range of services including structure design, sample development, precision sheet metal processing, precision machining and precision welding , spraying and other types of surface treatment and assembly, after-sales maintenance, and so on, and to provide customers with "one-stop" professional solutions of precision metal manufacturing. We possess all kinds of imported precision machining equipments, integrated with a set of flexible manufacturing system available for rapid response and rational production arrangement, which makes us able to quickly provide small batch of various kinds of non-standard customized products, and to provide customers with "one-stop" professional services of precision metal manufacturing, that is a competitive edge for the company.
OEM assembly: , Medical Equipment,New Energy,Semiconductor Equipment,General Equipment,Rail Transit;
Surface treatment: painting, electrostatic powder coating;
Stamping products: single punch, composite punch;
Sheet metal parts: welding, bending, CNC punching, cutting;
Machining operation: processing center, milling, lathing;
The main business of the company is to design various types of precision metal parts according to the order requirements. With adoption of the technology of precision sheet metal, machining, precision welding and surface treatment, we provide customers with customized one-stop industrial grade precision metal manufacturing services.
Taking the technological advantages in the field of precision metal parts processing, and Flexible processing capability of small batch and multi varieties, Huaya provides all kinds of precision parts for high-end manufacturing areas, such as semiconductor equipment, rail transportation, medical equipment, electric power equipment and mechanical equipment, etc. Our products have been exported to the United States, Europe, Singapore and other places, moreover, the trial production of new products are extended to the aviation industry and intelligent industry.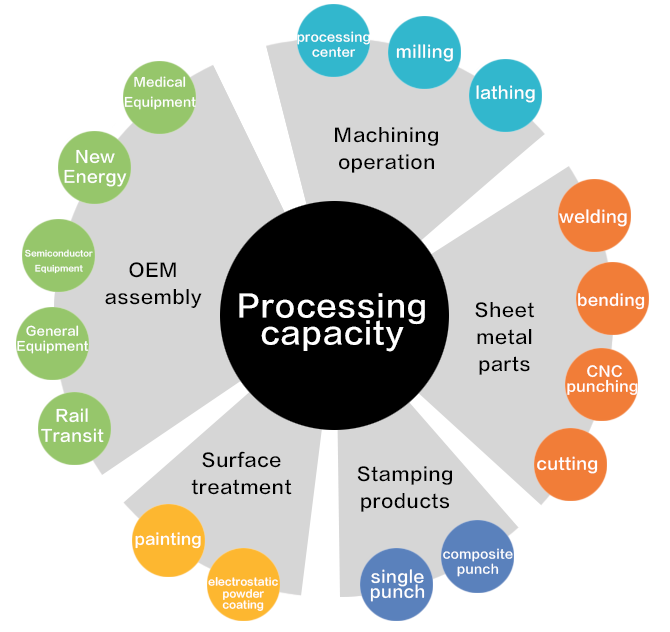 Machinery equipments: all kinds of mechanical equipment structural parts: intelligent office equipment structural parts;
Power equipment: high voltage electrical switchgear, photovoltaic grid connected inverter cabinet: gas tank;
Medical equipments: medical tower structure parts, shadowless operation lamp arm, operation table structural parts;
Rail transit: box of metro traction system, high-speed rail air conditioning duct system: high-speed rail seat components;
Semiconductor equipments: structural parts of chemical gas tank deposition equipment, structural parts of circuit board dispensing printing equipment, structural parts of wafer etching deposition equipment, structural components, structural parts of integrated circuit testing equipment, structural parts of spectral ray analyzer.
Sales, customer contact, project & technology, project operation, planning, plan management, production, production process, assembly, inspection, quality control, packaging & shipping, logistics process, product delivery.